Transfer Project Workshop 2019–Arusha, Tanzania

A 3-day gathering of social protection experts & stakeholders to promote cross-country learning on cash transfers
The Transfer Project  Workshop 2019 was held in Arusha (Tanzania) from 2-4 April, bringing together over 130 participants, including researchers, policy-makers, academics and development partners, from 20 different countries in sub-Saharan Africa.
Over three days, participants discussed the latest evidence and shared their experiences of social protection research generation and policy-making. Explore presentations, posters, and photos from the workshop below!
DAY 1: LONG-TERM POVERTY REDUCTION & THE POLITICAL ECONOMY
"The impact evaluation report of the Social Cash Transfer Programme is "the bible" for my ministry!" – Government Official Participant
DAY 2: EVIDENCE FROM AROUND THE REGION
"[Evidence] had a backseat in the way we were doing things, but now I realise that it should be put in the forefront. You cannot create a social protection policy without evidence." – Government Official Participant
DAY 3: EVIDENCE TO ACTION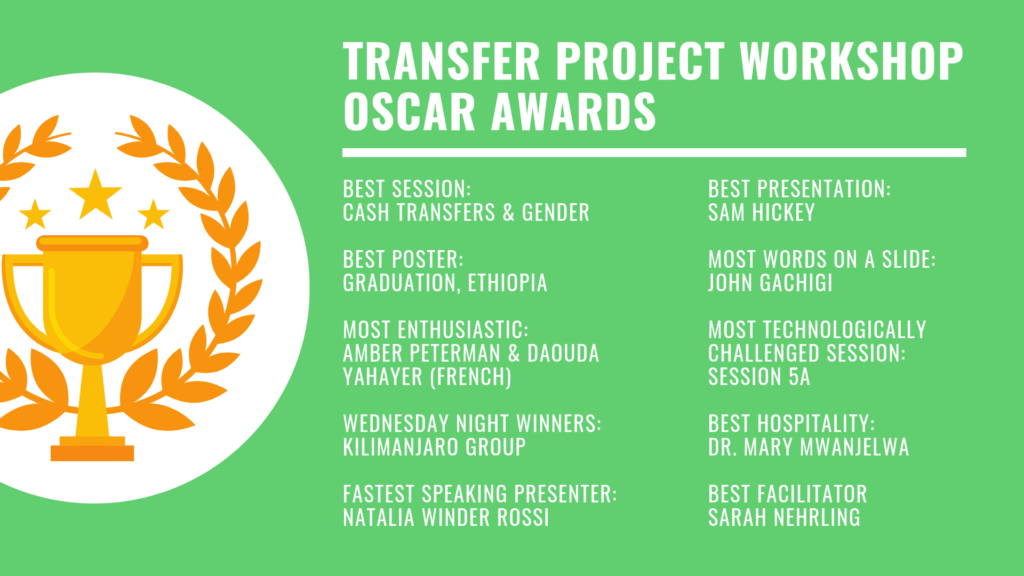 We held a poster session to give workshop participants an opportunity to showcase their ongoing work. See how social protection works in Tanzania, Kenya, & Madagascar. Explore fascinating work on cost effective social protection, Zanzibar's Universal Pension Scheme, cash plus in Kenya, & Productive Labour in Madagascar.
Learn how social protection can help young people by reducing violence against youth in Zimbabwe and helping adolescents to transition to adulthood in Malawi.
Discover studies from Ethiopia on improved nutrition, graduation, & access to services for homeless & disabled people. Find out how administrative data can be used to inform cash transfer programming and scale-up cash transfers.
Amidst the camaraderie at the Transfer Project Workshop, we remembered our colleague, friend and Transfer Project supporter Harry Mwamlima from Malawi who passed away earlier this year.